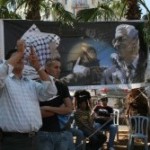 The two main Palestinian factions remain divided politically as they continue to pursue reconciliation efforts ahead of national elections, and the sides are divided over the outlook on the talks as well. The Fatah party of Palestinian President Mahmoud Abbas is sounding relatively optimistic on the process, but Hamas is sounding an opposite tune.
The WAFA Palestinian news agency reported that PLO Executive Committee Member and Fatah member, Nabil Shaath, told a press conference that a recent meeting between the sides was "fruitful and successful on all levels."
He also had good words for Hamas' efforts in the reconciliation process, but that contrasted with comments from an anonymous senior Hamas official. According to the Palestinian Ma'an News Agency, the Hamas official said on Monday limited trust between the sides is harming the reconciliation effort.
The two sides actually signed the deal last May, but have so far failed to fully implement the pact. The Hamas official told Ma'an that they are moving ahead towards elections without forming a unity government ahead of time, as originally had been planned.
One area that could reduce some of the potential tension between the sides is the decision by Hamas not to field a presidential candidate for the elections, set for this May. The Hamas official said the decision was made in part due to the international community and that an agreed upon candidate between Hamas and Fatah would be put up for election.
Major donors to the Palestinians have recognized Hamas to be a terrorist group and are refusing to accept the legitimacy of Hamas as long as it does not recognize Israel and renounce violence.
The group remains opposed to peace talks with Israel, although Hamas politburo chief Khaled Meshaal has said the reconciliation process will not be impacted by negotiations by Fatah members and Israel. Meshaal, who has met his term limit as politburo chief of the terror group, is set to be replaced in upcoming Hamas elections.
(By Staff, www.themideastupdate.com, January 17, 2012)