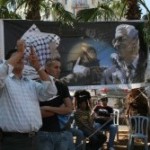 With the United Nations General Assembly meeting next month, the US is still continuing efforts to restart Israel-Palestinian peace talks, presumably with the intention of dissuading the Palestinians from seeking statehood recognition from the UN. However, the Palestinians are repeatedly declaring their intention to go to the UN regardless of where the peace process stands. According to the Palestinian Ma'an News Agency, Palestinian Authority Minister of Foreign Affairs Riyad Al-Malki expressed that same sentiment in an interview published by Ma'an on August 3.
In relatively blunt and clear language, Al-Malki made it clear that regardless of what format the Americans and international community devise to resume peace talks, the Palestinians aren't shifting their plans.
Said Al-Malki, "US and European efforts are being made recently in an attempt to reach a formula that meet our ambitions and we are waiting… but even if this formula is presented, we will not backtrack on the September bid."
Based on Al-Malki's comments, it appear that even should the Israelis offer some sort of compromise prior to resuming actual talks, the Palestinians will still maintain their approach to the UN. Israel has repeatedly called for the resumption of negotiations, but the Palestinians have maintained preconditions on the return to talks.
The US has so far repeatedly spoken out against a unilateral step by the Palestinians at the UN. Though the Security Council could issue a legally-binding ruling on Palestinian statehood, the US is widely expected to use its veto power in the Council in such a scenario. That would leave the Palestinians with a largely symbolic option of getting recognition from the UN General Assembly. Such a step would not be legally binding on the UN members.
In recent months the US Congress has threatened to consider downgrading assistance to the Palestinians should they go to the UN. Though the Palestinians are still highly dependent on foreign aid and the US is a substantial donor, Al-Malki also echoed other comments from the Palestinians who dismissed American threats.
Ma'an quoted Al-Malki as saying, "We don't want to confront the US, but despite all the financial and political threats from the US and Israel, it will not scare us and we will not take them seriously; we consider them all as psychological warfare."
In comments to reporters on August 2, posted on the US State Department Web site, spokesman Mark Toner reiterated American opposition to a Palestinian UN move.
"Our focus remains on how to overcome the current impasse between the parties.," said Toner in response to a reporter's question. "You mentioned September and the Palestinians' desire to move this into the UN. We think that's a bad idea; we've said so. And so we're working hard with both parties to find a way back to the negotiating table before then."
(By Joshua Spurlock, www.themideastupdate.com, August 4, 2011)