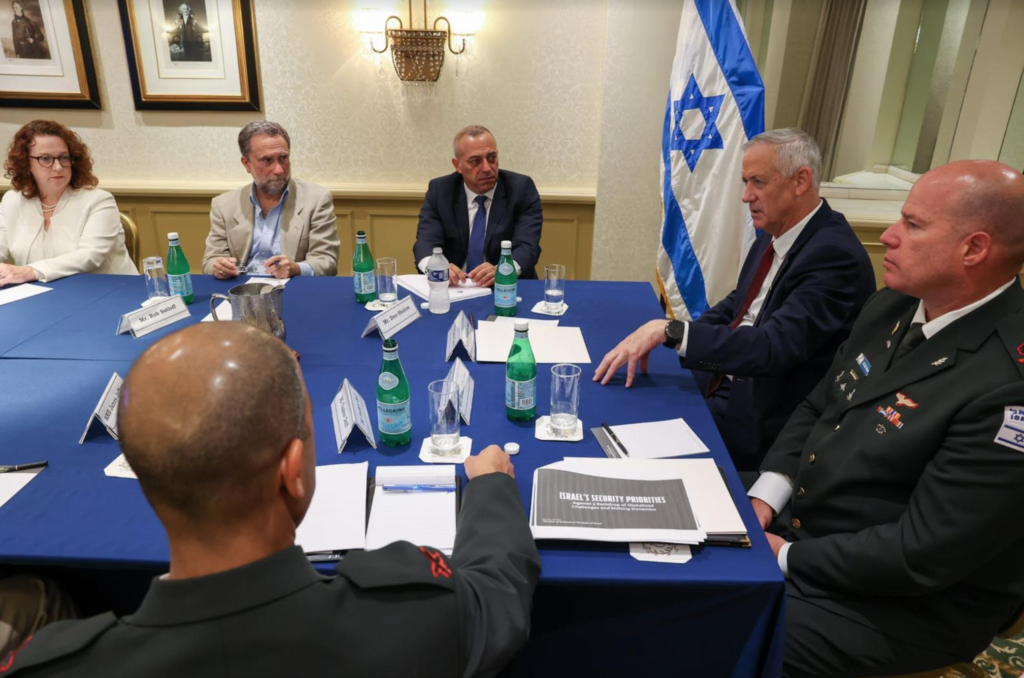 Iran is capable of developing weapons-grade nuclear fuel immediately, and "irreversible" advancements in the nuclear program have set them up to develop the bomb once a nuclear agreement expires as planned, Israeli Defense Minister Benny Gantz warned last week. "Iran has gained knowledge, infrastructure and capabilities—much of which is irreversible. This will enable Iran to further expand its nuclear program during the period of an agreement that would have fewer restrictions. Iran would be able to acquire a nuclear weapon when said agreement would end in 2031," Gantz told directors of leading think tanks in Washington, DC on Friday.
In his comments, summarized in an Israeli press release, Gantz said Iran could use the new advanced centrifuges in Iran's underground nuclear site at Fordow to enrich uranium to the weapon's-grade level of 90% immediately and could have enough nuclear fuel for one weapon in a matter of weeks should it choose to take that step. The Israeli press release further paraphrased Gantz as warning that Iran "limits" supervision by the United Nations nuclear watchdog and "does not provide answers regarding the open files and enriched material that it has accumulated."
Iran's nuclear program advancement underscores the threat posed by the so-called "sunset" clause in a proposed nuclear agreement that ends restrictions on Iran's nuclear program in a matter of years, rather than keeping those conditions in place permanently. The "sunset" clause was a reason then-United States President Donald Trump pulled the US out of the Iran nuclear deal in 2018. Now there is talk that a similar condition would be put into a renewed deal, leading to Gantz's dire prediction about 2031.
"The common goal of Israel and the US is to prevent Iran from acquiring a nuclear weapon, and the way to do so is to take Iran back and to deter it. The agreement in discussion contains a number of problematic clauses. Iran has accumulated infrastructure, capabilities and knowledge. As such, improvements are necessary in the nuclear agreement in discussion—with an emphasis on the 'sunset' clause," said Gantz in his comments to the think tank leaders.
"We will continue to take action [to ensure the security of the State of Israel] regardless of any developments."
With the possibility Israel could directly attack Iran's nuclear facilities, and amid reports sabotage against them has already occurred, the Israeli Defense Minister highlighted in a meeting with US National Security Advisor Jake Sullivan on Friday the significance of improving Israel's military capabilities—and it's not limited to defense.
According to a readout of the meeting from Israel, Gantz "emphasized the importance of maintaining and advancing operational capabilities for both defensive and offensive purposes in face of Iran's nuclear program as well as its regional aggression. This is regardless of the discussion surrounding the [nuclear] agreement."
As for Gantz' view on a proposed Iran nuclear deal, he was clear in his meeting with the US official. Gantz told Sullivan "the State of Israel opposes the nuclear agreement, as was presented to relevant parties, and emphasized several elements that are critical to the purpose of preventing Iran from obtaining a nuclear weapon."
Meanwhile, Iran's threat isn't limited to the nuclear realm either. The nuclear deal as currently conceived would further enable Iran's malignant actions by lifting sanctions and giving it access to funds and resources that could be used to support terror groups. While the Israeli press release on the comments to the think tank directors paraphrased Gantz as welcoming American initiatives to "strengthen cooperation in the Middle East, as well as its military activities in recent weeks in face of Iranian proxies", that doesn't eliminate the threat posed by those groups.
Gantz said that Iran provides more than a billion dollars to terrorist proxies in Syria, Iraq, Lebanon, Yemen and Gaza. Hezbollah alone receives more than $500 million USD per year, with over $100 million USD per year also going to Palestinian terror groups such as Hamas.
Said Gantz, "As such, regardless of any future scenarios, action must be taken against Iranian proxies, which threaten the entire Middle East region."
(By Joshua Spurlock, www.themideastupdate.com, August 28, 2022)