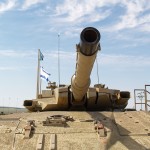 Less than two weeks after a multi-pronged terror attack on August 18 that killed multiple Israelis, the IDF is bolstering the defense on the Israel-Egypt border and near the southern Gaza Strip due to intelligence regarding another terror attack. According to a report on the IDF website, there is a "concrete warning" regarding a planned attack in the region from Palestinian terror group Islamic Jihad. As a result, early Monday morning the head of the IDF, Lt. Gen. Benny Gantz, ordered the reinforcement of IDF forces in the area.
Egypt controls the Sinai Peninsula, but since the fall of President Hosni Mubarak an increase in violent activities and terror attacks has occurred there, mostly focused on Egyptian security forces and facilities like the Egyptian natural gas line to Israel and Jordan. The area is also known to be a key arms smuggling route to Gaza and is thought to be the way through which the August 18 terrorists entered Israel.
Noting the Sinai situation and how it relates to Israel, Gantz was quoted by the IDF website as saying previously on Friday, August 26 that "terrorist organizations in the Gaza Strip are exploiting the security situation in Sinai to use it as a springboard to execute attacks on the border with Israel."
The IDF website noted that the upgrade in IDF presence in the southern region has been coordinated with Egypt, which has a peace deal with Israel. Gantz was also quoted by the website as saying on Friday that "peace with Egypt has great strategic importance."
The latest terror warning comes as Gaza rocket fire against Israel has slowed, although it still has not halted, despite a technical ceasefire. Multiple rocket attacks occurred over the weekend, and another was recorded on Monday, according to the IDF Spokesperson's Twitter Feed.
(By Staff, www.themideastupdate.com, August 29, 2011)