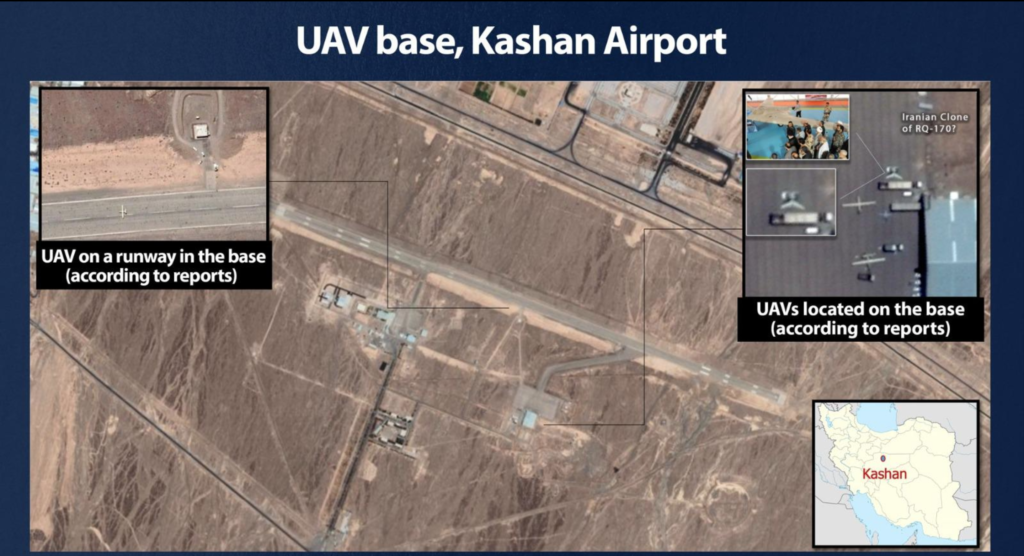 Iran isn't just exporting terrorism around the Middle East: They are giving wings to terror by arming their proxies with the ability to utilize "hundreds" of unmanned aerial vehicles (UAVs). And delivering drone knowledge to terrorists in the Gaza Strip is on Iran's agenda, according to Israeli Defense Minister Benny Gantz.
"One of the most significant tools employed by Iran and its proxies is UAVs with a range of thousands of kilometers," said Gantz on Sunday in comments published by Israel. "Hundreds of these UAVs are spread across Yemen, Iraq, Syria and Lebanon. Iran is also attempting to transfer the know-how needed for UAV production to Gaza."
Gantz, speaking to the International Institute for Counter-Terrorism (ICT) Conference at Reichman University, revealed the location of a base used by Iran to train terrorists from a variety of Middle East countries. The top Israeli defense official pointed to the "Kashan base located north of the city of Isfahan" as the UAV training ground for terrorists and "a key point from which Iranian aerial terrorism is exported to the region."
Iran's use of UAVs has already been on terrifying display, including the brazen attack on the civilian Mercer Street ship in July that killed two European crew members.
Gantz noted that the UAVs are part of a broader effort by Iran to not just arm, but militarize terror groups: "Iran has developed 'proxy terror' which is perpetrated by organized 'terror armies' which are assisting Iran in achieving its economic, political and military goals."
With that in the background, Iran's terror proxies and nuclear ambitions take on even more ominous tones—and not just for the Middle East.
"The efforts against Iran, as well as against Afghanistan and other countries, are not just interests for the Middle East or for the West," warned Gantz. "Proxies can be set up anywhere in the world. This is the time for all the world's powers, including Russia and China, to join the campaign to maintain global stability."
As for how the world can curb Iran's nefarious activities, Gantz pointed to sanctions already contemplated in the 2015 nuclear deal that Iran has repeatedly broken. The US pulled out of the deal and resumed sanctions in 2018, and Iran's blatant violations have been an effort to convince other deal members to make up for the sanctions or gain leverage for a new deal involving the US. But the original deal, known as the Joint Comprehensive Plan of Action (JCPOA), built in a method for chastening Iran for such violations.
"The time has come for action," said Gantz. "I call on the countries that are still members of the nuclear agreement to impose the sanctions set out in the agreement. It's time to make a 'snapback' [on sanctions]."
So will a new nuclear deal between Iran and the world powers bring resolution to this crisis? Gantz has little hope it will be successful. Said Gantz, "Iran does not honor the agreements it has signed, and there is no reason to believe that it will honor any future agreements."
(By Joshua Spurlock, www.themideastupdate.com, September 12, 2021)