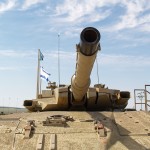 The top general in the US military told CNN recently that the Americans are considering "a range of options" on Iran and that they would be capable of carrying out a military strike on Iran's nuclear program if need be. Gen. Martin Dempsey, the chairman of the Joint Chiefs of Staff, told CNN in an exclusive interview published on Tuesday, "I am satisfied that the options that we are developing are evolving to a point that they would be executable if necessary."
The US has recently increased their rhetoric and sanctions against Iran, although the latest comments by Dempsey were some of the strongest yet on the possibility of a military option. That doesn't necessarily mean the US is launching an attack any time soon. In fact, Depmsey's greatest concern is that Iran will draw the US into a fight.
"My biggest worry is they will miscalculate our resolve. Any miscalculation could mean that we are drawn into conflict, and that would be a tragedy for the region and the world."
US officials have in the past commented on some of their concerns that a conflict with Iran could have a devastating impact on the oil-rich region, and by extension the whole world.
Earlier this week, US Secretary of Defense Leon Panetta told CBS News that it would likely be "about a year… perhaps a little less" before the Iranians could potentially get a nuclear weapon. One key factor in the timing is whether or not they had a secret nuclear fuel enrichment facility.
As of now, the Iranians are not believed to have such a location. The Iranians would also have to make the decision to go for the bomb, something Panetta told CBS he has not seen yet. Panetta also reinforced the "no options off the table rhetoric" regarding Iran.
The US military officials' comments come as American officials visited Israel, including a meeting with Deputy Foreign Minister Danny Ayalon, on Sunday. A press release from the Israeli Foreign Ministry website noted that Ayalon's meeting with Wendy Sherman, US undersecretary of state for public diplomacy and public affairs, "marks a further stage in the efforts of Israel and the United States to coordinate continued cooperation on the Iranian issue."
Such meetings between US and Israeli officials on the Iranian threat have been occurring for a while, although the Foreign Ministry noted that since the publication of the stronger UN nuclear report on Iran in November, "meetings with American officials on all levels have become more frequent."
Ayalon met with US officials on December 1 to discuss the Iranian nuclear program as part of the two nations' semi-annual strategic dialogue.
(By Staff, www.themideastupdate.com, December 21, 2011)